RadarStick - The Pocket Radar
Live air traffic is coming to your smartphone with the all brand new RadarStick. Be the first to receive aircraft position and identification messages LIVE AND DIRECT from the aircraft itself! Our new product combines a wideband receiver and latest decoder technology into a stunning smartphone application. You can also use it with our famous and proven RadarSpotter rapid aircraft identification tool. Start the RadarSpotter application out of RadarStick and watch your own live radar data.
Find out about Radar Stick and get your receiver now!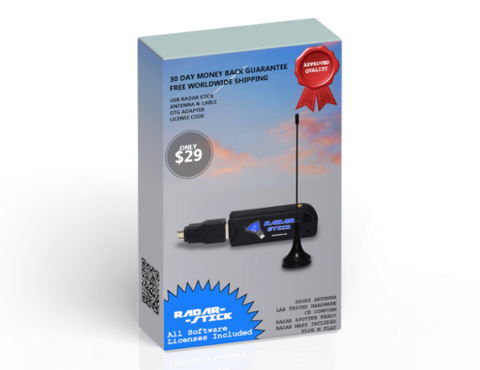 RadarSpotter - Augmented reality sky view
Radar Spotter helps you finding aircraft information rapidly. Our unique concept enables you to grab the info in nearly no time. Start the app and point your phone to the aircraft in the sky like taking a photograph with your camera. Then touch your device screen. That's all! It has never been easier to see what's going on overhead.
Read Radar Spotter and learn more about it.